Athens, Ohio—QuickLoadz Intermodal Robotics was excited and honored Nov. 9 to host correspondent Jeff Flock and his Fox Business Network crew for a series of live reports on the role the company's products can play in solving the nation's supply chain woes.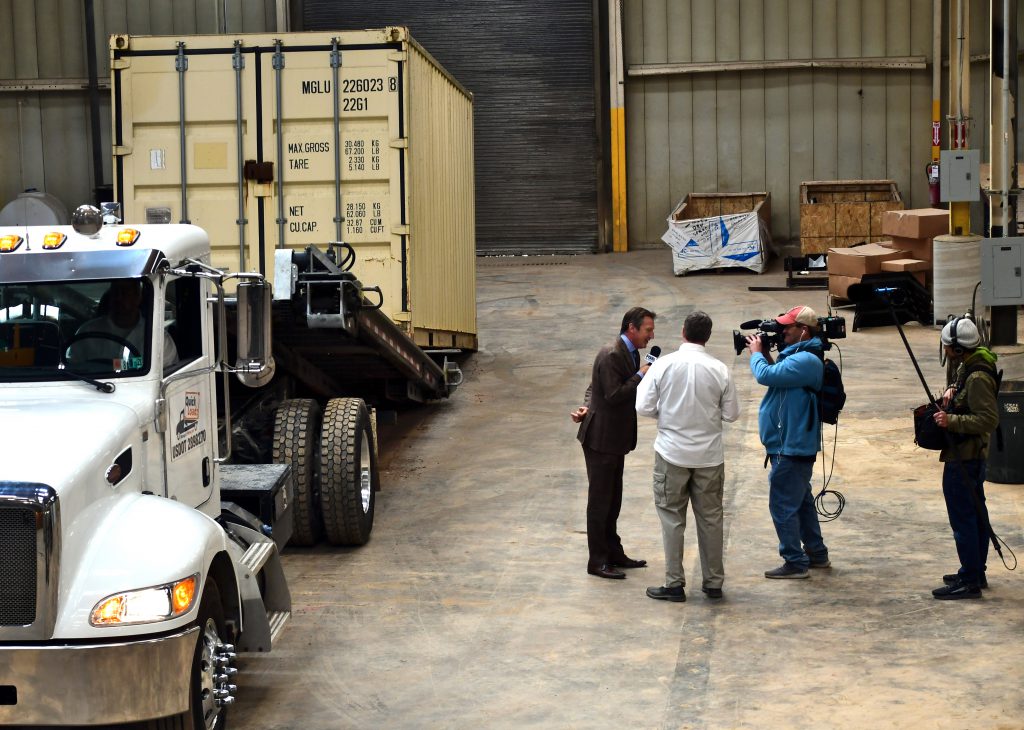 Three reports aired that day from the QuickLoadz manufacturing site in Athens, Ohio, during the Stuart Varney, Neil Cavuto, and Liz Claman programs. In each, the patented QuickLoadz system of easily loading and unloading sea shipping containers was demonstrated on live television by company CEO and inventor Sean Jones. In one, the truck-mounted bed version for handling 20-foot containers was highlighted, while the others focused on the QuickLoadz chassis for over-road hauling of 40-foot containers.
Correspondent Flock accented the easy-to-use smartphone application that enables the driver to pick up the container, lock it in place, unlock it, and deposit it on the ground, all without the use of any further equipment and without leaving the cab of the truck. The reports pointed to the potential role of the QuickLoadz system in making shipment from port to final destination easier, thereby streamlining the supply chain.
Said Flock at the close of the final report, "All made in the USA. Solving a problem right here at home."
About QuickLoadz Intermodal Robotics
QuickLoadz builds computer controlled, Wi-Fi-enabled truck beds and trailers to allow a driver to move loaded sea shipping containers in three minutes without leaving their seat in the truck cab.
Ninety percent of the world's freight travels in sea shipping containers. This system is called intermodal freight and is the basis for world trade, a 9.6-trillion-dollar market. QuickLoadz allows any container to be moved anywhere without need for additional infrastructure such as loading docks, warehouses and cranes. QuickLoadz opens up the world of intermodal freight in a way never before possible.
QuickLoadz is the last piece to create the new world of freight. It creates a world where distribution centers can 'pop-up', expand or contract where needed. A world where the autonomous truck can work with a QuickLoadz Intermodal Robotics trailer to deliver entire container loads of freight in three minutes without anyone touching the load.
QuickLoadz is developing a new all-electric drivetrain and Hybrid Power Axle system that will provide up to an estimated twenty percent in fuel savings. QuickLoadz is also building on the embedded multi-camera Wi-Fi computer system with GPS and cellular to create a built-in SAAS cloud logistics platform that can provide real-time information to managers and drivers alike.
QuickLoadz Intermodal Robotics contact:
Sean Jones
888 304 3946 ext. 4
QuickLoadz.com