People always ask us, "how can you load two 20′ containers on one 40′ trailer?" We've always had to tell them that you load the first container using the QuickLoadz chain drive, but load the second one manually with a winch and straps. It's an answer we've always been unhappy to give. As our customers and readers know, we hate winches and straps. They're slow, unsafe, and inefficient.
Now we have a solution we're proud to offer.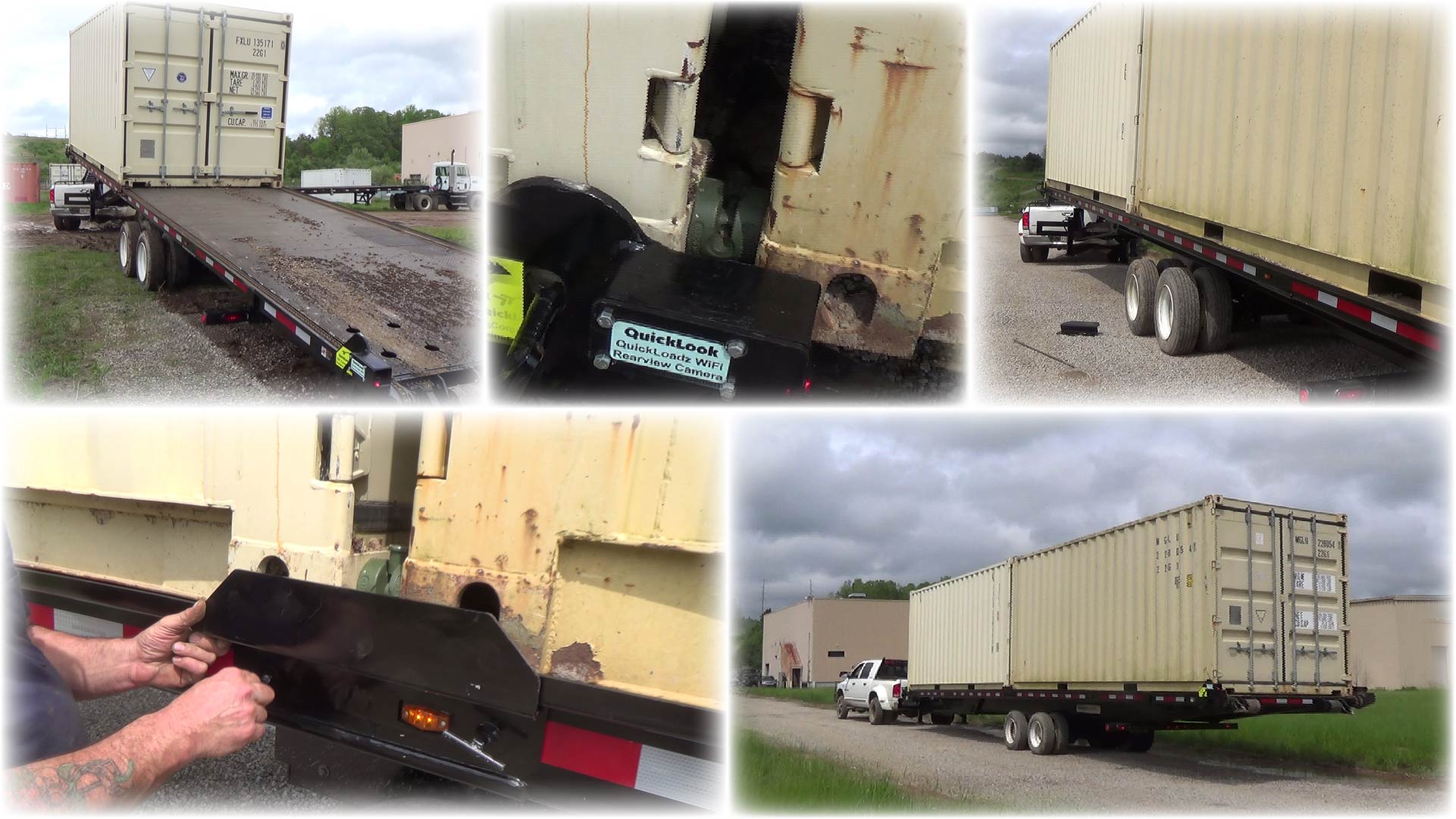 The first container is loaded.
Both containers are connected to each other.
Both containers are loaded together.
The Dual QuickLock Clamps are screwed into the bed.
The bed is lowered, and the driver rides off into the sunset.
First, you load one 20′ container just as you normally would—from the comfort of the truck cabin, with your smartphone, using the QuickLoadz Chain Drive. After it's loaded, you drive over to your second container, and unload the first container in front of it. They attach to each other with two connectors that screw into the corner castings. Now that they're connected, you can load both at once as if they're one 40′ container, still with the fast and easy to use QuickLoadz system.
QuickLoadz already has DOT-approved instant locking pins in all four corners of the trailer. But when you have two 20′ containers loaded instead of one 40′ container, there are four container corners in the middle of the trailer that aren't secured. The Dual 20′ Container Locking Pins come with two sets of two pins that slide into these middle corners and screw into place, so that all four corners on both containers are secured to the bed.
For $700, the Dual 20′ Container Locking Pins comes with two container connectors to clip two containers together, two Dual QuickLock Clamps to lock the containers to the bed, with mounting points added to the trailer on both sides to accommodate two containers. It is available on every 40′ trailer. Moving two loaded 20′ containers just got a lot easier.
See it in action:
Move two empty 20′ containers with the 20k Super Short 40:
https://www.quickloadz.com/product/20k-super-short-40/
Move two fully loaded 20′ containers with the 60k Super High 40:
https://www.quickloadz.com/product/60k-super-high-40/